Chalk in Hand: Euro Kids Pre School Moore Avenue and Behala, Kolkata celebrates Hate Khori 2023

The literal meaning of Hate Khori is "chalk in hand" and this ceremony is pretty popular among Bengalis in West Bengal. Euro Kids Moore Avenue, Tollygunge, Kolkata is the first preschool in Kolkata that is going to celebrate Hate Khori with their pre-primary school children. The pandit will be invited to perform the Saraswati puja and the Hate Khori.
In Bengal, this day is considered special as it is related to learning and education.
New black chalkboards, chalks, and books are purchased for the Hate Khori and the pandit performs the ceremony.
Kids learn to write the alphabet in front of Goddess Saraswati and seek the deity's blessing for the future.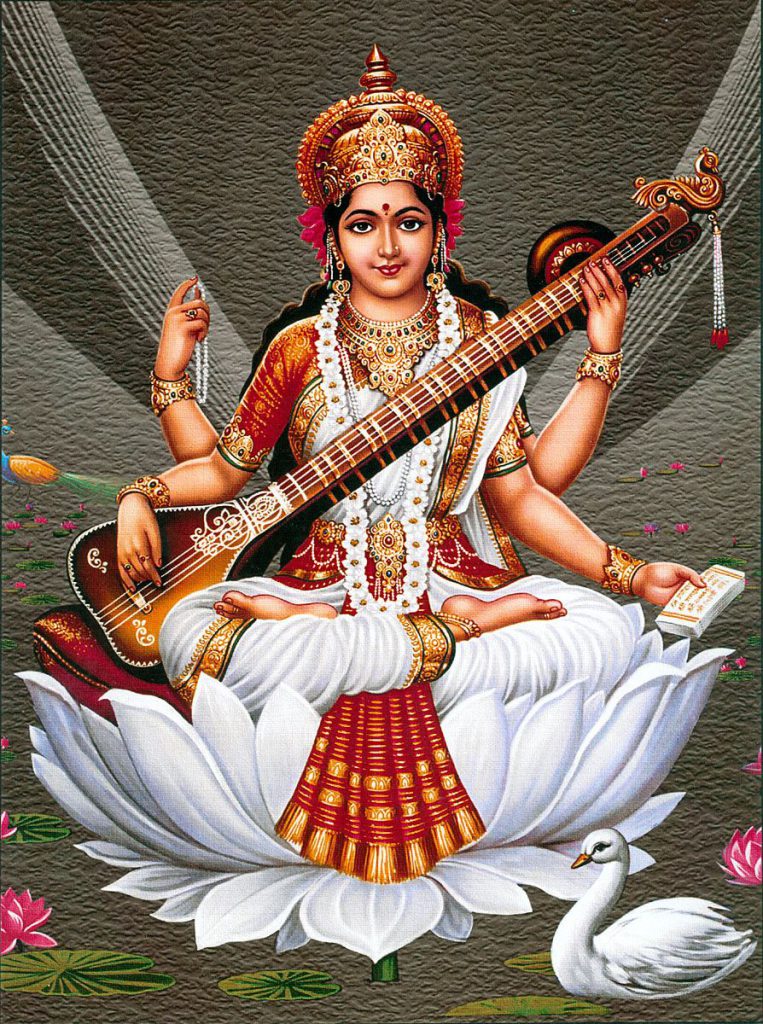 Parents prefer to introduce young children to formal education on this special day by performing the Hate Khori ceremony. Children are given new chalk and chalkboard to write their first alphabet in the ritual.
The ritual is usuallyperformed when the child completes two years and enters his or her third yearAt this age, a child's brain develops fast and they learn and grasp things quickly.
Hate Khori 2023: Traditional attire for children
For this ceremony, little boys are made to wear traditional Bengali Dhoti and Kurta and the girls are made to wear saree (usually pre-stitched) – preferably yellow in color.
Hate Khori 2023 Celebration: Complete guide on how Euro Kids Pre School Behala and Moore Avenue are planning to perform the ceremony.

Each child will be given a book and chalkboard to write on.
The kids will come in traditional attire so that they learn about the custom and traditional values. Each child will be invited with their parents to perform hate kori after offering Pushpanjali. Prasad will be offered to children by a pundit and then children will be made to write the first three alphabets in presence of goddess Saraswati.
The flow of events for Saraswati Puja 26th Jan 2023 at Euro Kids International Preschool Behala and Tollygunge, Kolkata.
Prayer to GoddessSaraswati: Parents and children will be invited on 26th Jan 2023. Pandit will perform the ceremony and children will be in traditional attire to experience and learn about age-old Indian traditions.
Lighting of Diya: This represents wisdom, knowledge, and prosperity. Parents and preschool teachers will light the Diya
Saraswati Puja Ceremony: Pandit will perform the rituals and children with new chalk and chalkboard will be made to write the firstalphabet in presence of parents.
Get each child to submit a book ceremonially to the GoddessSaraswati
Guru's first gift: After the ceremony, each child will be presented with drawing material and writing materials by the play school teachers. The ceremony is related to the beginning of the learning phase in a child's life. It is appropriate for the teachers to present such gifts.
Learning with fun with Euro Kids: To engage children fun learning games will be organizedin the preschool.
All the children participating in the event will be invited for one week of storytelling classes in the Euro Kidpreschool at both Behala and Moore Avenue.
This Hate Khori eventis considered a major milestone for kids and is also popularly known as the first writing ceremony.
Significance of Saraswati Puja 2023
Saraswati Puja is an auspicious day when most people in India, especially Hindus worship GoddessSaraswati. This day is considered special to seek blessings and knowledge in education,art, and music.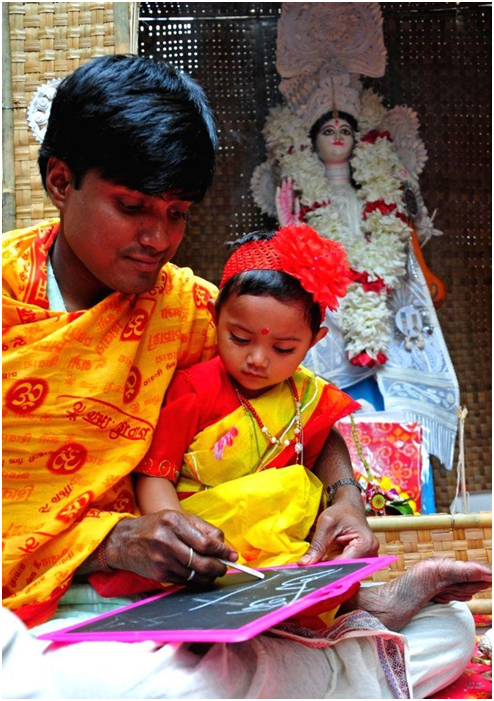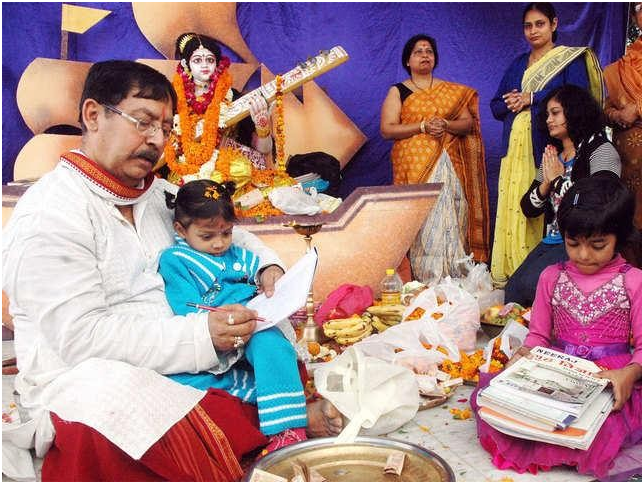 Mythical History of Hate Khori
Vasant Panchami or Saraswati puja is a festival that is dedicated to Goddess Saraswati, the Hindu god of knowledge, art, music, and learning. She is the daughter of Durga and is considered a partner to Brahma.
According to Hindu mythology, Saraswati is the goddess of knowledge, art, music, wisdom, and nature.
In many parts of India, Vasant Panchamiis another name for Saraswati Puja, celebrated as the birthday of Goddess Saraswati.
It is also believed Goddess Saraswati invented Sanskrit, the lingual of scriptures.
A Saraswati puja is celebrated in every Bengali home.
Saraswati Puja holds a special place and is celebrated at every educational institution and home. The deity is decorated with white cloth and flowers as a devotion.
The sweets used in Prasad are also made of milk and white sesame seeds or tilladdoos are offered. Hate Khori is a popular celebration in West Bengal. where little children of the age of two are made to perform a ritual of writing the first letters of the alphabet.
Little kids are made to sit on the lap of the pandit who holds their hands and makes them write the first letters. Mainly, OM or A, B, C, and or some Bengali alphabets like "K-a", and "Kha". Final Words
Palash flowers, Khichuri, mixed vegetables, and Kul chutney are some delicacies prepared in most Bengali homes.